OFFESTIVAL 2015 PRELUDES
DAVID ZAMBRANO – IMPROVISATION
11 – 15.05.15  – 10:30 – 15:30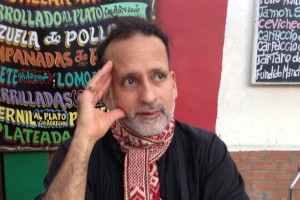 Improvisation on stage involves the use of conscious choices in order to create an environment in which to dance. Students will be encouraged to find their own creative thoughts, integrating body and mind, space and time. Learning to dance with a flexible mind thus we will create material for structuring solos, duets or group situations. "Dancing is perfect when a relationship of totality exists. The coming together of heaven/dancer/earth, past/present/future, and feminine/masculine results in a dance experience that is orgasmic for both dancers and audience."
Open to dancers experienced in performing improvisation on stage.
Price : 200 euro
Inscriptions : send a short C.V. and motivation letter to legarage29@gmail.com
________________________________________________
DAVID ZAMBRANO is a dancer, choreographer and pedagogue. He has been making dance for over 20 years, has visited 40 countries, worked with more than 25.000 students, and has performed at hundreds of venues across the world. His pieces range from set choreography, structured improvisation, and pure improvisation. He invented the "Flying Low" and "Passing Through" technique.
JULIO CESAR IGLESIAS – ALEXIS FERNANDEZ alias MACA
18 – 22.05.15  – 13:00 – 17:00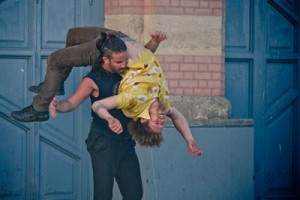 Is Based in the center of Human conditions as a source. The creation of Tools to control your actions and emotions,  using all  your  potential and being aware of it. Having the "NOW " as main rol !
Is a Search of control in our physical and metal sources to redirect it in a performatic way and yo go in and out of states, being truly with your self.
Also works the physic contact between bodies, keeping the same principle as a core. Future is Now !
Price : 100 euro
Inscriptions : send a short C.V. and motivation letter to legarage29@gmail.com
___________________________________________________________________
JULIO CESAR studied at the National Dance Academy Cuban contemporary dance and was a member of the national dance company. He works as a dancer with numerous companies in Europe, Cuba and Latin America, most recently with Samir Akika / Unusual Symptoms and Ultima Vez. He also creates his own choreographies.
ALEXIS FERNANDEZ alias MACA comes from Santiago de Cuba and studied at the National Academy of Dance in Cuba, the Escuela Nacional de Artes La Habana. He worked with various companies in Cuba, Ecuador and Spain, including the Danza Contemporánea de Cuba in Havana and La Intrusa-Damián Muñoz in Barcelona. In 2009 he founded together with Caterina Varela, La Macana his own company, which is based in Galicia, Spain. With it, he realized his own work on different projects and in cooperation with various international artists.
TED STOFFER – WORKSHOP
4 – 8.05.15  – 12:30 – 17:30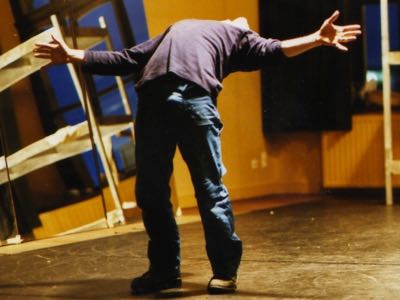 The aim of the workshop is to familiarize participants with tools of vocabulary creation and choreographic composition. The tools I use are resumed in "S.T.A.R." (Space, Tension, Articulation, and Rhythm : tempo & duration). Participants are introduced to these concepts through improvisations, one element at a time. The aim of the improvisations is to access different points of the creative process, or to guide participants out of comfort zones and habitual movement ideas in order for them to discover a habitat of extremes. Understanding these tools allows performers to communicate more accurately the unpredictable world which humanity encompasses. The participants will work individually, in pairs and in groups. The workshop is open to all levels and to anyone interested in performing arts.

Price : 100 euro
Inscriptions : send a short C.V. and motivation letter to legarage29@gmail.com
---
TED STOFFER formed Aphasia Dance Company in 1998 to create a framework in which to investigate the language of the human body. He believes in the observation of the rhythms of breath, thought, action, reaction and contemplation in the initiation of ones' intent allowing universalism in the individual expression to be revealed. He has danced with Scapino Ballet Rotterdam, Rambert Dance Company, Sasha Waltz and various freelance choreographers. He is teaching regular for Ultima Vez, Rosas, Charleroi Danses, Sasha Waltz and various open classes around Europe.