FR/EN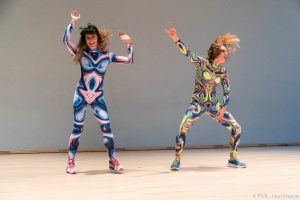 MATCH 2 explores competition – an essential feature of neoliberalism, determining not only the market economy, but also our daily life, work and relationships.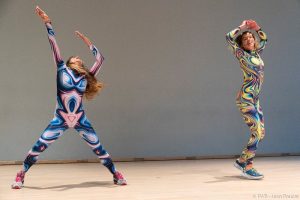 MATCH 2 questions the ideas of improvement and progress that animate the systems in power – economic, hierarchical and family – and in which no interest or relevance can be found. We explore competition through grotesque demonstrations of ego and aggression, linking the social, the animal and the national.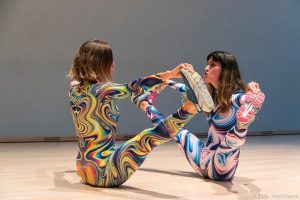 Maintaining competition requires a kind of balance – if one starts to win, the game is over. The two players find themselves as if in a mirror, discovering differences as they try at the same time to achieve the same image, revealing the most subtle manifestations of competition – constant judgement, comparison and envy between individuals.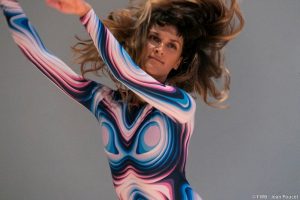 Sabina is a dancer, choreographer, playwright, director of Garage 29. Romanian, she knows how to do wood construction and plumbing, she deals with plants mixtures, she knows how to drive, even in Brussels, and in her free time she does budgeting and boating with her father-in-law. She is on Tinder.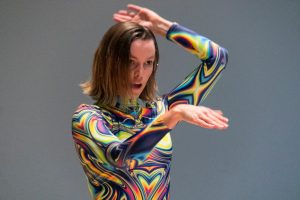 Vilma is a dancer, choreographer, actress, company director in Lithuania, director in Strasbourg. She is also a girl from the East and therefor knows how to do housework while listening to music. She is a kind of farmer like her father, she doesn't have a licence but she has a car, she knows how to ride a bike without her hands, even in Brussels, and in her free time she makes budgets and takes care of her boyfriend.
Creation: Vilma Pitrinaite & Sabina Scarlat
Based on a concept by : Vilma Pitrinaite & Emily Gastineau
Costumes : Sabina Scarlat
Lights design: Caroline Mathieu
Dramaturgy: Pascale Gigon
Co-production: Les Brigittines, Charleroi-Danse
Residencies: Les Brigittines, Charleroi-Danse, Garage29
PREMIERE: 7 & 8.06.2021, TB2, Les Brigittines, Brussels