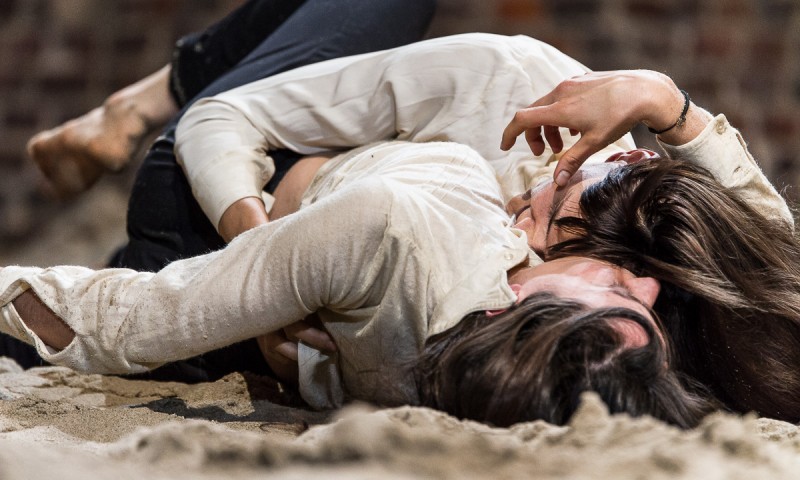 ANNA CALSINA & SABINA SCARLAT / UNIFORM STORE
26.10-6.11.15/GARAGE29
La lithosphère, zone rigide externe de la Terre interne est subdivisée en plaques, dites tectoniques. Les mouvements relatifs de ces plaques génèrent essentiellement 2 types de limites entre elles : convergentes ou divergentes. Au niveau de ces limites, séismes, activité volcanique, formation de montagnes ou de fosses océaniques, se produisent. En dehors de leurs bordures, les zones de divergence créent de la surface terrestre tandis que les zones de convergence la font disparaître. 
Pour cette première pièce en duo, Anna Calsina et Sabina Scarlat se font livrer 6 tonnes de sable et jouent à la tectonique des plaques. Sur le plateau, une installation de châteaux de sable baigne dans les nuages et la fine pluie. Dans ce décor impeccable dont tout les grains de sable sont de nature à ruiner le dispositif, Anna et Sabina se ressemblent et s'assemblent. Sauf que, telles deux croûtes terrestres, lorsqu'elles abondent dans le même sens, cela ne produit pas un terrain d'entente mais plutôt un cataclysme. Plus elles effacent leurs différences, plus leur convergence est source de destruction massive. 
En résidence du 26 octobre au 6 novembre au Garage29. Étape de travail vendredi 6 novembre à 20h30. 
The lithosphere , rigid outer area of the inner Earth is divided into plates called tectonic plates . The relative movements of these plates generate essentially two types of boundaries between them : convergent or divergent . At these limits , earthquakes, volcanic activity, formation of mountains or ocean trenches , occur. Outside their borders, divergence areas create the Earth's surface and the convergence zones see the earth's surface disappear.
For this first duo-led drama, Anna Calsina and Sabina Scarlat have been provided six tons of sand and mimick the plate's tectonic movements. On stage, an array of sand castles are soaked in clouds and drizzle. In this immaculate scenery where all sand grains can ruin the plan, Anna and Sabina get together and alike. Similar to two tectonic plates, their convergence translates into a cataclysm instead of a common ground. The more they erase their differences, the more their convergence turns destructive.
In residency from October 26th till November 6th. A work in progress is organized Friday November 6th at 8.30pm. 

Creation :
26.10 – 5.11.15
Presentation : 
FR 06.11 — 8:30 PM
PRICE : 5 €
 ©Leif Federico Firnhaber