Cie Tumbleweed – A very eye
30.05.19 /  workshop

For this new creation, Tumbleweed focuses his research on the behaviour of the crowd and their language. The social group evolves as a super-organization, working for the survival of each individual, deploying each singularity in a coherent collective movement. But the more the individual assesses the information he receives in relation to himself, the more he asserts his own interest, and the more he tends to detach himself from the community. Is there a collective intelligence and what is the value of an individual within a multiple organization, a society?
At the beginning of a new production, Tumbleweed co. allows itself a period of research between moments of reflection with two people and participatory workshops, open to all disciplines, professional or non-professional. The participants are invited to explore with them on topics like collective sensation, non-verbal communication, walking with others in a restricted space and proprioception.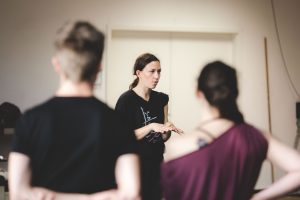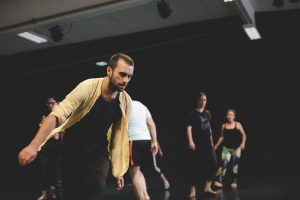 © Danilo Floreani
---
CONCEPT ET CHORÉGRAPHIE : 
Angela Rabaglio et Micaël Florentz
PARTENAIRE DE RÉSIDENCE :
CCN Ballet du Nord (Roubaix, FR), TanzHaus (Zürich, CH),
Choreographisches Centrum Heidelberg (Heidelberg, DE),
La Bellone (Bruxelles, BE), Garage29 (Bruxelles, BE)

When :
30.05 10am>1pm
Where :
Garage29
Rue de Moerkerke 29
1030 Bxl
Infos & Inscriptions :
Free Entrance !
---