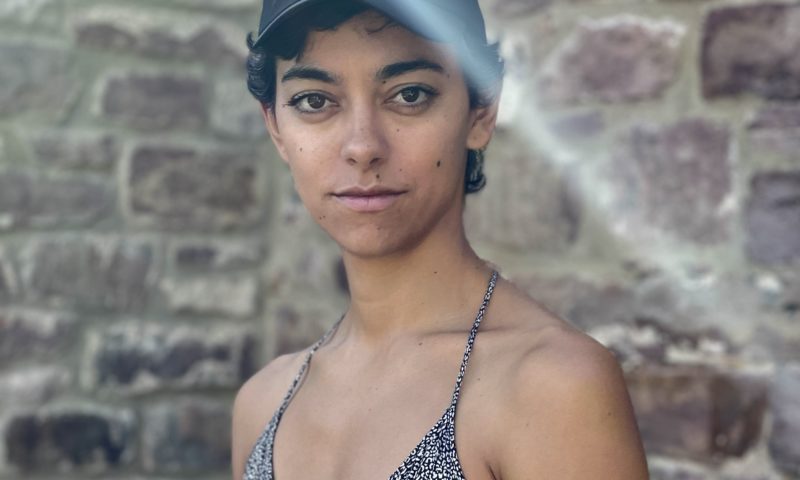 Maria Ferreira Silva – GINCUBATOR 2023-2024
Maria is an interdisciplinary dance artist, born in Lisbon and based in Brussels. She started her artistic journey at the age of six, performing at the local auditorium in the suburbs of Lisbon where she grew up. She holds a dance degree from the National Conservatory of Lisbon, followed by a training and research cycles from P.A.R.T.S. (with the support of Calouste Gulbenkian Foundation), and an MA from the New Performative Practice program at the Stockholm University of the Arts.
As a maker, she co-creates the duet "Light as a Feather, Green as an Apple" with the dancer and choreographer Veli Lehtoaara and with the support of P.A.R.T.S. and a coproduction from Zodiak – Center for new dance (FIN) and from Theater Malpertuis – Tiel (BE). In 2021 she initiates an artistic research project (with support from the Federation Wallonie Bruxelles and Charleroi Danse) that investigates the concept of Plasticity activated through the performative and the choreographic and leads to the creation of the installation "My body is here and it disappears" like a dance throught time and the publication "Words that sense their weight, Bodies that write in space".
As a performer, Maria works with Willi Dorner, Daniel Linehan, Georgia Vardarou, Radouan Mriziga, Marco Torrice, Anneleen Keppens, Renan Martins de Oliveira, Maud le Pladec, Benjamin Vandewalle, Trajal Harrell, amongst others. In her teaching prectice, Maria works as a guest teacher at the Royal Conservatory of Antwerp and at Stockholm University of the Arts.
Currently, she develops her own choreographic work and works as a performer in "Studio Cité" by Benjamin Wandewalle, "Twenty-Seven Perspectives" by Maud le Pladec, "The Köln concert", "Monkey off my back or the Cat's Meow", "The House of Bernarda Alba", and "The Romeo" by Trajal Harrel and the Schauspielhaus Zurich for whom she also works as a rehearsal director. Maria defines her artistic practice as porous container that holds space to a vibrant ecosystem to emerge in which different practices, roles, and contexts, nurture and feed-forward her engagement with the dance field.
---

AGENDA
23>27.10.2023 : Neighbor's residency
27.10.2023 7pm : Try-out at neighbor's house
20>24.05.05.2023 : Workshop-Residency
Maria got curious about the neighbor's residency where she wants to tackle the idea of bringing her creation in intimate spaces. A try-out performance is organized on the last day at the neighbor's house, an  opportunity to present and discuss about the experience, with the public gathered by the neighbor and the mediation of an associated artist of our partner, Theater 140.
She will then gather a group of dancers to work on her ideas towards  a group format of her show.
A technical residency at 140 Theater will be scheduled later on this season.
---
MARIA FERREIRA SILVA EST L'ARTISTE QUE NOUS AURONS EN COMMUN AVEC LE WORKSPACEBRUSSELS CETTE SAISON. NOUS DÉMARRONS AINSI NOTRE PROGRAMME D'ÉCHANGE D'ARTISTES, PROPOSANT À UN.E ARTISTE EN COMMUN CHAQUE SAISON DE CONSTRUIRE UN CALENDRIER DE RÉSIDENCES AU
 WSB ET AU G29, 
METTANT À PROFIT LA SPÉCIFICITÉ DES CADRES DE TRAVAIL PROPOSÉS PAR LES DEUX STRUCTURES.
DE PLUS, LE WSB ACCUEILLE  EN RÉSIDENCE, 
UN.E ARTISTE ACCOMPAGNÉ.E LA SAISON PRÉCÉDENTE PAR LE G29, 
LUI 
APPORTANT UNE VISIBILITÉ BI-COMMUNAUTAIRE EN MÊME TEMPS QUE L'OPPORTUNITÉ 
DE POURSUIVRE SON PROJET. POUR LA SAISON 23/24, LE WSB ACCUEILLE ZOÉ LAKHNATI AVEC ARNOLD.