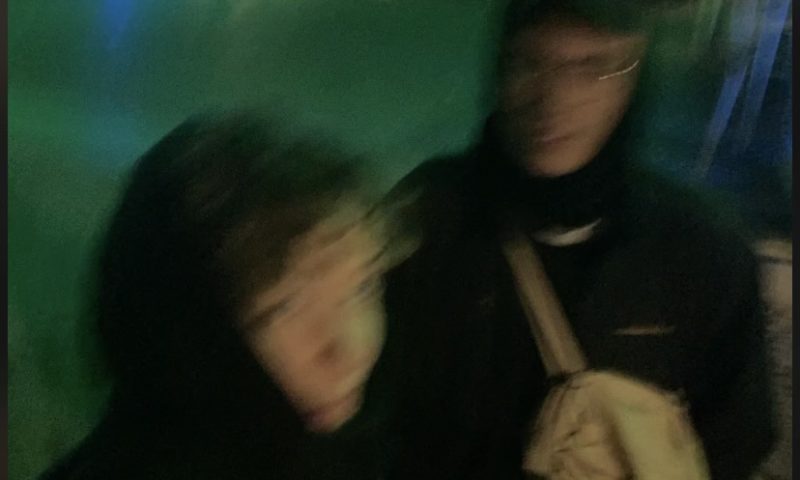 Vladimir Babinchuk & Eleni Roberts Kazouri – GINCUBATOR 2023-2024
FR/AN
Vladimir Babinchuk (b.2001, FR) from Portuguese and Ukrainian origins, is a dancer, performer and maker based in Brussels, Belgium. At the age of 18, began a B.A. in Dance and Performing Arts at P.A.R.T.S, of which he graduated in 2022. Vladimir's work is framed within the practice of nurturing care for one's body while breaking it apart on the digital level. His research of it has been nurtured by working in contact with the themes of land, soil and its symbiosis with technology. He has previously collaborated with Tamara Cubas in 'Offering For a Monster', and has been part of Miet Warlop's work, "After All Springville", in the role of the giant. Vladimir has had the opportunity to spend a month in PRISMA, Lisbon (PT), in the context of a residency program, presenting 'good evening, friends. i'm a vampire', a work that treats the issue of love within ultra-liberal societies by uncovering ancestral traumas caused by the church.
Eleni Roberts Kazouri (GR, 1998) is a dance performer based currently between Brussels and Athens. At the age of 21, Eleni moved to Brussels to attend the school for dance and performing arts, P.A.R.T.S., and since 2022 she has been a freelancer. During her studies she focused on the development of her own movement, experimenting with diverse improvisational tools and ways of moving through space. She's intrigued by the different qualities that the human body can manifest, and gets inspiration by music and sounds, in relation to body movement. Eleni has performed in festivals, such as KDF, EXiiiT Festival, and Festival Artonov (2022), creating her own work, participating in different projects, repertories, and creations. She performed the piece "Offering for a Monster" by Tamara Cubas, and since 2020 she has been performing the piece "FLIES", by Renato Miskolczi, that has been presented, among other places, in WIELS, KANAL-Centre Pompidou Bruxelles and DeSignel, in Antwerp. At the moment, she is part of the new creation 'Tempo Rubato' of Tipperary Dance Company, by Alexandre Iseli, which will be toured in Ireland and Tenerife in 2023.
---

AGENDA
15>19.01.2024 : Workshop
12>16.02.2024 : Workshop
Eleni and Vlad chose to start their research inviting others to two periods of work-shop, creating a collective time for exchange, exploration, learning, spatial practice, moving and reading in order to create reflective tools that will help the growth of this project.
They wish to welcome any kind of bodies and their personal narratives to come in exchange, placing themselves as mediators of a line of thoughts and ideas, they believe opened enough to allow a diverse and plural work to happen.
A call for participants will be issued later in the season. For the time being, you can already save the dates!