Agostina D'Alessandro – Workshop Conscious Release + Research Days
13&14.04.19 / workshop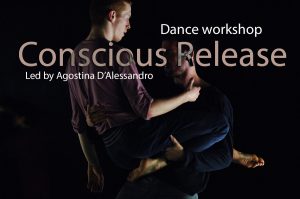 By using the contemplation of inner space and through the release of tension, an effective means to stop habitual patterns and formal movements in the dance arises. Full creativity can than be experienced and form appears only to serve a unique expression: the present moment.
At the end of this workshop I'll invite some people to join me for a 4 days deep research. This research period will be organized in Brussels the days that follow the workshop. (address to be confirmed). This intense research is for free and only by invitation.
The application of this technique optimizes the body perception by building awarness towards the current state and abilities of the dancer. The body becomes a boarderless tool for the dancer's imagination and its dance patterns.
---
Agostina D'Alessandro (ARG/BE) is a contemporary dancer, improvisor, teacher and choreographer. In 2005 she established herself in Brussels and started working as a performer with T.R.A.S.H Company (Holland) in the following productions: PORK-IN-LOOP & ZOFIA, performing in Hollande, Belgium, Spain & France until 2011. In 2009 she joined Julyen Hamilton Company- Allen's Line, performing the pieces MUD LIKE GOLD (2017), "Sand & Vision" (Brussels-2016), "LOCAL TALK" (Paris/Bruxelles & Strasbourg-IMPREVU Festival – 2013), "LE VOYAGE" (Paris & Bruxelles – 2010) & "THE ARRIVAL" (Bxl-2009). She also participated in several projects such as: Les Ballet du Grand Maghreb, By Ana Stegnar & Saïd Gharbi, SUPERAMAS; Koshro Adibi IPL (International Performers Laboratory) and studied with several companies and teachers. Agostina is a co-founder of SoloConversations Dance Collective active since 2007. In March 2016 the collective premiered their last piece "The Grave is Yawning" directed by Alexandre Tissot at Le Théâtre de la Vie / Brussels. Since 2011 she is part of the creative team of Improvisation & Composition at the Royal Dance Conservatory of Antwerp where she creates pieces based on a dance improvisation project. She has directed the following performances: Reload in Motion & Zôgraphos (2013), Suggested Emotions & VIRTUS (2014), SYNCHRONICITY, Evoked Potential & Abstract Entity (2015), Mine Is Yours & Flexible Identity (2016), INSIGHT & THERE (2017),UNBLOCKED & LOOK BEYOND ME (2018) & Malleable Reality (2019). She has taught workshops of Conscious Release and improvisation for performance in Belgium, Mexico, Holland, Argentina, Croatia, Italy and Spain. Agostina's work is support by Federation Wallonie Bruxelles and accompanied by Grand Studio.
Agostina received a research grant from the Belgium Gouvernement to keep developing her method Conscious Release.

Saturday 13th and Sunday 14th April – 10h to 16h (please bring lunch with you)
Infos & Registrations :
Price: Early Birds (before March 30th) €85 / Full price €100
---