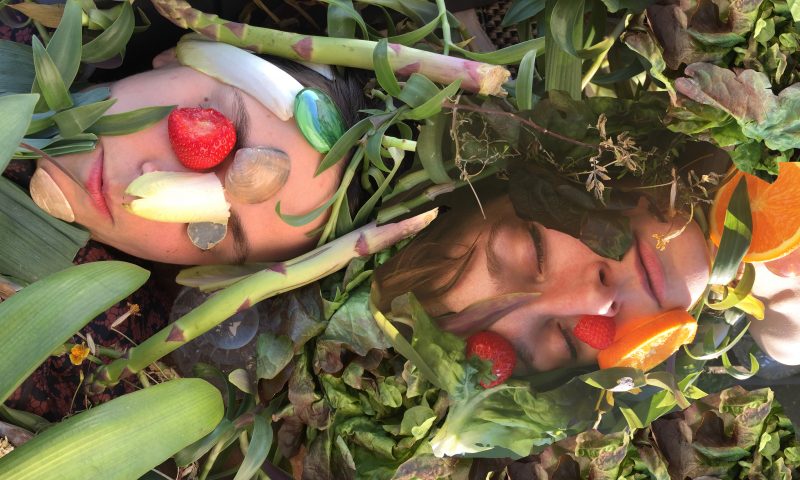 Work your BAVES – Workshop by Marion Sage
30.05 > 10.06.2022
For two weeks, choreographer and dance researcher Marion Sage fills Garage29 with edible and transformable food for a workshop-creation halfway between movement, cooking and visual arts!
She proposes to the participants a series of sensory explorations around food in search of narratives and alchemical motor experiences.
A plastic research will be based on multiple processes of conservation, letting the food release their aesthetic powers: a fermented red cabbage, a fish preserved in salt, a mother of kombucha, will become resources to draw landscapes, inviting people to penetrate them to observe these slow chemical processes.
A physical research will be born from this enchanted environment in constant transformation, the taste will be largely mobilized to experiment movements and bodily and spatial games. The food will be tasted and translated by the moving and speaking bodies.
The mouths will search for songs connected to the gustatory sensation and will give to hear humming astringent lullaby, bitter rap or salty polyphony. Textures, flavors, properties… observe what is tasted. A halo. A cartography. Marinades to invent.
After 2 satiating and succulent weeks, the public is invited for dessert: a final presentation, fruit of this collective gustatory and eventful experience, around a tasty buffet to calm the insatiable gourmands, on Friday June 10th at 6pm!
---
DATES : 30/05> 10/06/22, 11am >5pm
PRICE:  100€ (In agreement with the choreographer, 5 participants will be able to attend this workshop free of charge. Info & registration requests before May 6th at contact@garage29-offestival.be )
Selection criteria:
Present yourself in your own way, whatever you think is relevant to mention!
Send a medium of your choice. For example, a song, a drawing, a photo, a poem… (external inspiration or your own creation).
When you think about the 5 senses, which one speaks to you the most? Or the one that is most easily accessible to you?
---
Photography by Anne Lepère 
Graphics by Garage29